Distribution area
We are proud to distribute electricity to 8 million customers across a 55,300 square kilometre service area which covers the Midlands, South Wales and the South West.
Our network, which spans the width of the country from Penzance on the tip of Cornwall all the way to Skegness on the North Sea, consists of 220,000 km of overhead lines and underground cables, and 185,000 substations.
To check if we distribute electricity to your area please use our handy search facility below.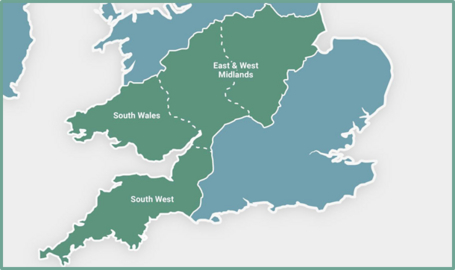 Map of the UK with National Grid Electricity Distribution's 4 licence areas listed - East and West Midlands, South Wales and South West
Search for your distributor
If you are unsure who the electricity distributor is in your area, simply enter your full postcode into the search box below and click to find out.
Please note that part of a postcode, a town or city name will not be found.