Leading an energy revolution
National Grid is committed to supporting the UK's target to achieve net zero by 2050.
'Net zero' means that the amount of greenhouse gases produced is no larger than the amount removed from the atmosphere. This is achieved primarily by reducing carbon emissions. This differs from 'carbon neutral', which relies on offsetting existing carbon emissions.
Driving net zero
We are driving the shift towards a low carbon, net zero future for our customers and work is already well underway to transform the energy grid to achieve this. Over the five year period 2023-2028 we will turbo charge the pace of that change in order to meet the energy needs of our customers today and create a sustainable future for generations to come.
---
Use Our Interactive Tools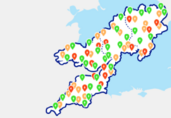 EV Capacity Map
One element of our plan to accommodate electric vehicles on our network is to make use of existing capacity.
Find out more about what net zero means and why we're committed to shaping a sustainable future.
---
Get involved
Net Zero Surgeries
Reducing carbon emissions to zero is an objective we want to work with all of our stakeholders to achieve. If you would like to discuss your plans with one of our engineers or planners you can request a net zero surgery appointment.