Distribution code
For information regarding the distribution code of licensed electricity distribution operators of Great Britain please click here to visit the distribution code website.

Electricity distribution networks are regional grids that branch from the national grids to deliver power to industrial, commercial and domestic users. The UK distribution network operators' regions are shown on the map below: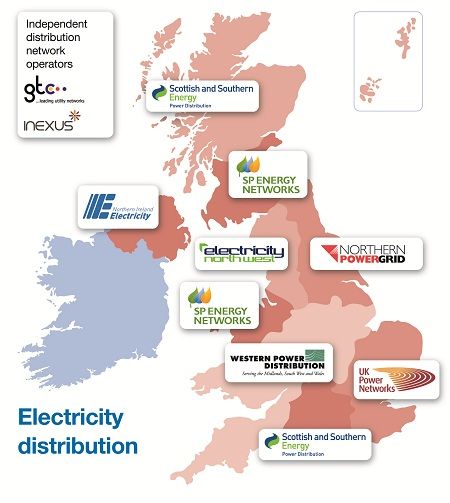 Name of Distributed Network Operators in the UK and Northern Ireland are listed below in the order they're shown on the above map, from left to right, top to bottom:
Scottish and Southern Energy;
SP Energy Networks;
Northern Ireland Electricity;
Electricity North West;
Northern Powergrid;
SP Energy Networks;
National Grid;
UK Power Networks;
Scottish and Southern Energy.