Community support
At National Grid Electricity Distribution we are at the heart of the community. Our staff who work for National Grid also live in the communities we serve, and so we have developed our support to directly benefit local organisations.
During 2019-2020 we allocated around £260,000 to assist 276 separate charitable and non-charitable organisations. Three core themes form the bedrock of our community support:
Education
Safety
Environment
While maintaining these core themes, we continue to tailor our support to align, where appropriate, with the feedback from our extensive stakeholder engagement with over 40,000 stakeholders every year, as well as opinion research from our annual customer awareness activity.
In particular, we have continued to promote National Grid Electricity Distribution's Priority Services Register at a range of events and roadshows, and we are also continuing to develop initiatives as part of our educational safety activity.
Education and safety
Teaching children about electricity and the importance of electricity safety is extremely important to us.
Children and other members of the public may not always be aware of the potential dangers from the electricity distribution network. This lack of awareness can lead to them becoming exposed to more risk during certain play, leisure or work activities. Therefore, we set a business plan commitment to organise and run over 1,000 educational sessions to provide safety information to over 400,000 schoolchildren between 2015-2023.
In the last year alone, over 3,000 separate educational safety sessions took place, reaching over 70,000 schoolchildren.
We achieve the successful delivery of our education programme in a number of ways:
Tailoring individual school safety talks aligned to the national curriculum.
Crucial Crew and Life Skills sessions, co-facilitated with emergency services and other agencies), and delivered in schools to teach young people about safety.
Permanent education safety centres at Milton Keynes, Bristol, Gloucester, Leicester and Birmingham, where daily sessions are held throughout the school term to teach children about safety, including electrical safety. Last year all resources at the five centres were updated.
Providing resources to schools via the Power Discovery Zone – an interactive, curriculum-linked website for schools that relates to electricity and safety. Here, you find learning materials, games, quizzes and videos around the theme of electricity and safety.
As part of our education sponsorship in 2019/20, we also supported a range of local education initiatives, including:
Mentoring and sponsorship of two STEM challenges in the West Midlands and Shropshire
Donation towards new books for young children in Nottinghamshire
Sponsorship of the School and Education Awards in South Wales
Support for the children's safety initiative Countrytastic at Malvern Show
For more information about our education programme please visit www.westernpower.co.uk/power-discovery-zone
Environment
As an industry, we understand the crucial role we play in reducing our impact on the environment, while also supporting the government's net zero carbon ambitions.
Part of our support includes a commitment to planting 7,000 native trees and shrubs each year, which we do in in partnership with Gloucestershire and Avon Wildlife Trusts, as well as Groundworks Wales.
The recent environmental initiatives that we have supported through our community funding include:
A donation to support a Wildlife Watch group for school years 1-3 in the South West.
Support for Nottinghamshire Wildlife Trust's 'Keeping It Wild' programme, where a group of city-based children get to meet, learn new skills and experience the great outdoors. The theme of this year's programme was also about plastic pollution and included an excursion which taught the group about the impact of plastic waste on the environment.
Additional plants and shrubs have also been donated to local councils in Lincolnshire and Derbyshire.
More information about how we are reducing our impact on the environment and embracing low carbon technologies can be found in our environment section.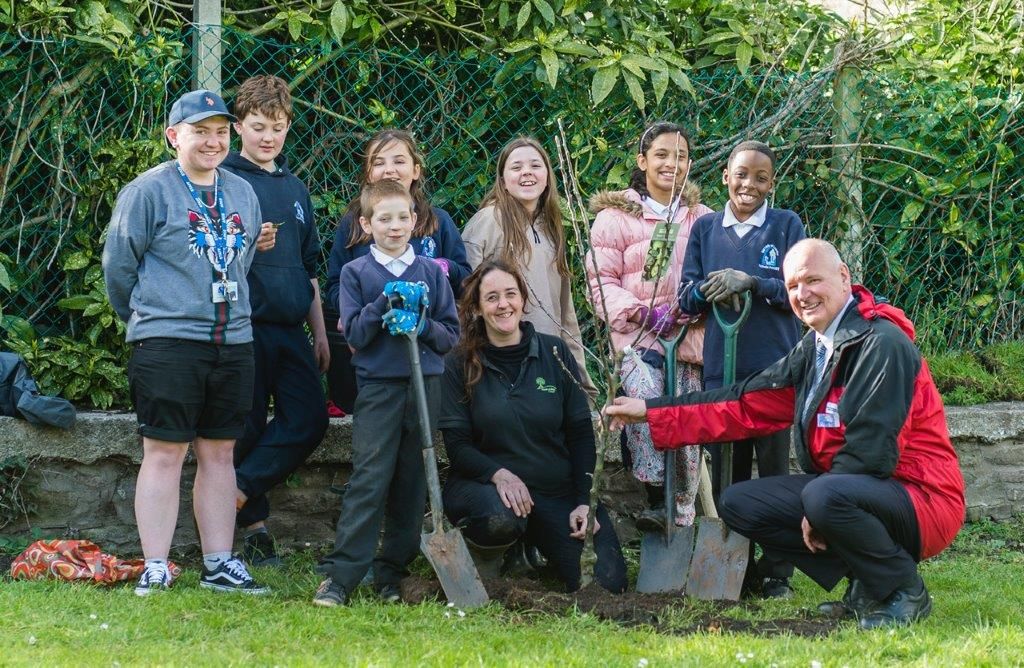 Our News and Events pages provide the latest information about the community initiatives we support.