Active Network Management (ANM)
In areas where there are multiple complex constraints affecting a number of customers over a long time period, an Active Network Management (ANM) system will be implemented. Distributed control systems continually monitor limits on the network and then allocate the maximum amount of capacity to customers in that area based on the date their application was submitted. This Last In, First Out (LIFO) hierarchy prioritises the oldest connections when issuing capacity, but is scalable so that new entrants will get access to the capacity when it becomes available.
Where constraints are driven by National Grid Electricity Distribution (NGED) limits they may be referred to as Distribution Active Network Management (DANM) and for National Grid constraints Transmission Active Network Management (TANM). Both DANM and TANM constraints are handled by the same ANM systems per zone. Where TANM is used to manage a constraint all connections within the GSP will be required to be controlled by that system. Where constraints exist on NGED's distribution network the option to pay for reinforcement or to connect using DANM will be given to the customer.
Upon request, an alternative connection offer can be provided, which will provide the associated details of connecting to an ANM system. An example of this offer document can be found here. NGED will also provide a curtailment report with the offer to give an indication of likely levels of constraint that a site will experience. An example of this report can be found here and a supporting document to explain the content and how it is produced here.

Existing ANM Zones
The table below lists NGED's ANM zones onto which customers can connect.
| GSP/Interconnected | NGED Licence Area | Applications Available | System Status |
| --- | --- | --- | --- |
| Pembroke | South Wales | Yes | Available |
| Swansea North* | South Wales | Yes | Live |
| Alverdiscott Indian Queens | South West | Yes | Live |
| Bridgwater Taunton | South West | Yes | Available / Live |
| Abham Exeter Landulph (South Devon) | South West | Yes | In development |
| Seabank | South West | Yes | In development |
| Cellerhead | West Midlands | Yes | In development |
| Feckenham | West Midlands | Yes | In development |
| Bicker Fen | East Midlands | Yes | In development |
| Staythrope | East Midlands | Yes | Available/Live |
*Whole of GSP not available for ANM

New ANM Zones
When a conventional application's reinforcement cost and time-scale are significantly large, NGED will look to implement a flexible connection option.
Where ANM provides a viable solution and the customer expresses interest in connecting using the system, the following steps will be taken to create a new zone:
1. Carry out preparatory curtailment report analysis and provide a curtailment report alongside the new alternative connection offer – target time 3 months.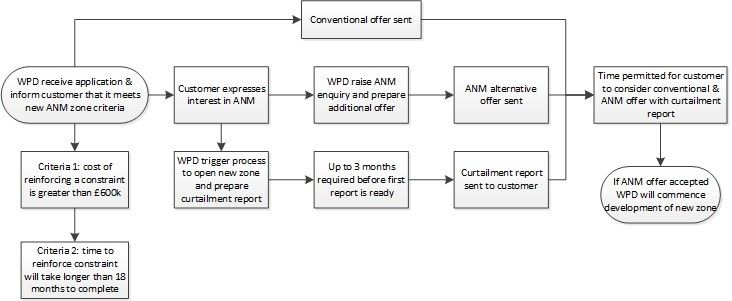 2. Upon acceptance of the Offer by the customer, NGED will commission the development of the new zone with a 3rd party ANM provider – target time 9 - 12 months. The timescale to develop and complete the ANM zone may be determined by the terms and any specific milestones set out in the Offer. NGED will work and liaise regularly with customers during this process.
3. Install and commission ANM control system at customer's site alongside normal commissioning process
All subsequent applications within this GSP will be eligible to utilise the ANM zone where necessary.
NGED may decide to open the zone if regular interest is shown in connecting to the GSP.
Curtailment Reports
As part of a Connection Offer within an ANM zone, NGED will provide a curtailment report to give an indication of how often the site will be curtailed. NGED are unable to provide any guarantee of these levels of curtailment as they are only an estimate. To assist with assessing the viability of a new connection anonymised historic curtailment reports are available to view, which will indicate anticipated curtailment levels for new applications within our existing ANM zones.

Additional costs associated with ANM
NGED have fully integrated the communication paths and control mechanism of their ANM system within its existing infrastructure. All EHV connections to the network require a Connection Control Panel to be installed at the DNO/Customer boundary, which can be configured for a site using ANM.
In order to instruct and police the applied ANM set point, suitable communications infrastructure and a fully rated circuit breaker are required and cost in the region of £32,000 (typical cost in September 2020). These are not required as standard for a connection below 33kV.
NGED use ANM to monitor constraints across various voltage levels, starting from the transformers feeding primary substation (at 11kV) up to the National Grid interface (at 400kV). Sites as small as 500kW on the 11kV network are eligible to use ANM. The granularity of curtailment, availability of supply of equipment and cost of the required equipment will limit any sites smaller than this.

Implementation and commissioning
Details of the requirements for connecting and configuring an ANM connection to NGED's network can be found on the ANM implementation and commissioning page.
TANM and Appendix G
As part of NGED interaction with National Grid information is supplied on the level of generation connected to the network. Please see the TANM and Appendix G page for detail on the difference between the two.
Other Load Management Systems
NGED are procuring demand response services using Flexible Power. Information on this and how to participate are available on the Flexible Power website.