Technical Limits Accelerated Connections
NGED's DSO has been proactively working with all system and network operators to agree a way forward that will enable more customers to connect to our network without needing to wait for major transmission works to be completed. We have established the first two phase (1A and 1B) of Technical Limits as part of ENA process reforms to enable quicker, more agile connections across the T-D boundary. Technical Limits will allow more generation connections to energise on a non-firm basis ahead of the completion of enabling transmission reinforcement works. This will enable many of our customers' connections to be accelerated on a non-firm basis compared to the dates previously advised via the Statement of Works process. More information on these initiatives can be found in the webinars and presentations below.
Phase 1A Expression of Interest
Technical limits are being rolled out for these 22 GSPs under phase 1A
| South Wales | West Midlands | East Midlands | South West |
| --- | --- | --- | --- |
| Cardiff East 132kV | Bustleholm 132kV | Berkswell 132kV | Alverdiscott 132kV |
| Grange 66kV | Feckenham 66kV | Bicker Fen 132kV | Bridgwater 132kV |
| Pyle 132kV | Kitwell 132kV | Staythorpe 132kV | Exeter 132kV |
| Rassau 132kV | Nechells East 132kV | Stoke Bardolf 132kV | Indian Queens 132kV |
| Upper Boat 132kV | Penn 132kV | | Taunton 132kV |
| | Port Ham 132kV | | |
| | Willenhall 132kV | | |
The initial Expression of Interest for phase 1A GSPs has now closed, but we are proactively contacting new customers who may be able to benefit from this initiative. The timeline and next steps for phase 1A GSPs are:
Progress to date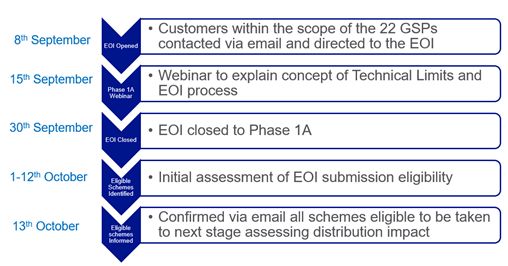 Next Steps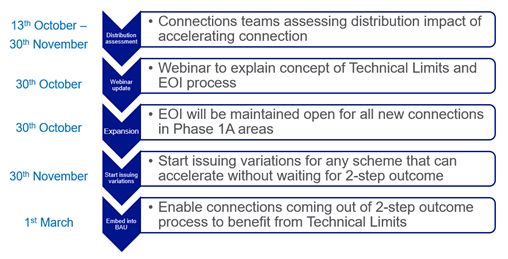 Phase 1B Expression of Interest
Phase 1B has now been agreed and has a further 7 GSPs that will have Technical Limits included. The 7 GSPs that are in phase 1B are:
| West Midlands | East Midlands | South West |
| --- | --- | --- |
| Bishops Wood 132kV | Coventry 132kV | Abham 132kV |
| Bushbury 132kV | Enderby 132kV | Landulph 132kV |
| | Chesterfield 132kV | |
We have now opened an Expression of Interest at all phase 1B GSPs and all eligible schemes have been invited to submit a response. The timeline for phase 1B is: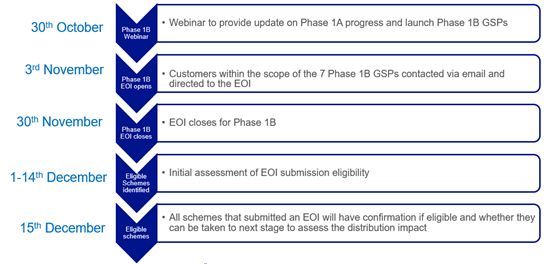 How can I find out more?
We have held 2 webinars updating customers on Technical Limits and the staged Expression of Interest process. Both the webinar recording and slides are available below.
30th October Webinar
This webinar provided an update on:
The first phase of NGED Technical Limit's which are initially being rolled out at 22 GSPs including next steps for your scheme
The Expression of Interest (EOI) response for this first phase of Technical Limit GSPs
Activation of the next tranche of GSPs and associated EOI timescales
Future work to extend Technical Limits to all NGED GSPs
Q&A session on Technical Limits and the EOI process
A recording of the webinar can be found below. Alternatively, the slideshow presentation can be viewed here.
15th September Webinar
Our first webinar on Technical Limits explaining the criteria, process and timescales for phase 1A in more detail. A recording of the webinar can be found below. Alternatively, the webinar slideshow presentation can viewed here.
Future Updates
We will be actively contacting schemes in phase 1A and 1B with updates as they progress through the assessment process. We will be running further webinars as part of this rollout to keep customers up-to-date on the process, including releasing the next (phase 2) Technical Limits on further NGED GSPs.