Solar Storage
| | |
| --- | --- |
| Funding mechanism | Network Innovation Allowance (NIA) |
| Duration | Apr 2015 - Jan 2019 |
| Project expenditure | £865,000 |
| Research area | Energy Storage and Demand Response |
| Region | |
January 2019

Following the dissemination webinar, the Solar Storage project is now closed. The slides from the webinar and the final report are available from the "docume…
Objectives
Quantify the potential value to network operators and others of integrating storage with DG.
Use real-world operation of integrated utility scale storage: generation system to provide data to regulators and potential investors.
Demonstrate safe, reliable operation of the system under operational conditions.
Determine market interest in second hand batteries and the practicalities of their sale and removal.
Problem
Integrating storage with renewable generation offers a route to addressing some or all of the following issues:
(i) Renewable generation does not predictably match peak local demand.
(ii) Renewable generation is often 'spikey', which can introduce short-term impacts on grid voltage or other quality of supply factors.
(iii) Unpredictability, lack of control mechanisms and power quality mean grid operators use very conservative rules to allocate grid connections.
(iv) Grid operators have to introduce new equipment to manage power quality, a service which could be provided by operators of utility scale renewable installations.
(v) Without the ability to respond quickly to local surges in load, grid operators manage network capacity within tighter limits than might otherwise be possible.
(vi) Introducing two or more active storage or quality management devices onto the same HV circuit may cause them to interact with each other and have a negative impact on power quality.
Methods
A battery and control system will be integrated with a 1.3MW PV array connected to WPD South West's 11kV network. Analysis of the detailed data set created by carrying out a set of well-defined use cases will form the technical core of the project. The use cases will demonstrate:
Sale of energy stored in the battery for a higher price;
Better matching of generation profiles to demand profiles;
Use of storage to peak lop PV generation above a (dynamic) power threshold;
Import electricity from the grid at times of low demand;
Absorption and supply of reactive power to help manage the network voltage;
Reduced connection capacity requirement per MWp generation capacity;
More predictable PV output through smoothing PV's steep ramp rates;
Raise or lower the export power threshold depending on thermal or voltage constraints;
Show the control system allows smart co-ordination of multiple storage systems;
Analysis of the data will quantify the potential value of each use case.

The project team will work with stakeholders and project participants to propose potential changes to regulations, grid code, balancing mechanisms etc. to allow reward for investment in storage.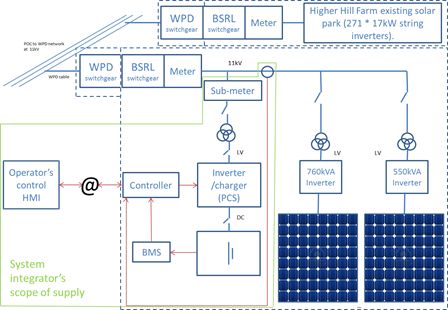 Webinar
We recently held a final dissemination webinar on the 31st January 2019. You can view the full webinar below, or click here for a copy of the webinar slides.
---