Our History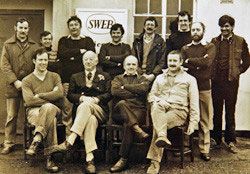 In 1963 our first helicopter undertook its maiden line patrol for the Port of Bristol Authority - the first contract won by the unit.
But it was a severe winter in 1965 which saw the helicopter's operational use in emergencies come to the fore. Conditions were so poor that linesmen and staff were flown into otherwise inaccessible areas where lines had been brought down. Today, we are used to helicopters making an important contribution in severe weather situations and where crews play a vital part in the restoration operations following severe storms.
The good reputation of the helicopter unit spread quickly through the industry and by 1970 the company was already working with Midlands Electricity Board and South Wales Electricity Board (both now National Grid), and the consortium was then joined by Seeboard (UK Power Networks) with Southern (S & SE) joining in 1988.
A report of progress published in 1965 clearly demonstrated that the helicopter had many benefits and advantages to offer. Possibly the most valuable of these was the spotting of potential defects, which would not otherwise be seen from a ground level inspection.